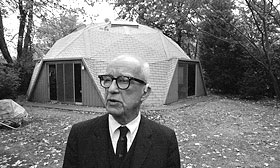 EcoDOME :
Passive Wooden House
EASY TO CONSTRUCT WITH
MODULAR & PREFABRICATED KITS

Thanks Mr. Fuller...
Designed for you by using
Natural Building Materials
We care about sustainability and carbon foot print at our design desicions.
For example, we avoid more energy consuming materials like aluminium and also concrete. We use two main material : WOOD and PERLITE.
Structural frame of the geodesic dome is made from massive wood struts. Laminated wooden plate is the main structure of triangular wall moduls . Water based varnish is used for protection of the wood frame structure and laminated wooden plates.
PERLITE is a natural insulation mineral. Triangular wall moduls are made from perlite based insulation plaster over the wooden plates.
Thermal conductivity of the insulation plaster is 0,038 W/mK.
Standard insulation thickness of the wall modul is 12 cm to achive heat transfer coefficient of 0,3 W/m2K.
Extra thickness is also possible if it is necessary according to energy balance calculatons.
The plaster has also good resistance for outdoor conditions.
Passive House Technics
INSULATION and SUN CONTROL TECHNICS are the main issues for passive house design. There is no thermal bridges and hot air leaking points in our design.
USING SOLAR ENERGY FOR HEATING
DAY TIME HEATING: South faced window is important to use winter sun. Solar collectors for hot air is also used for day time heating.
NIGHT HEATING: Solar energy that comes from hot water collectors is stored in heat storage tank in day time. Ground heating system transfers the heat energy frome the storage to the house through the all night.
We can calculate the system sizes for you.
PREVENTING THE SUMMER SUN
It is necessary to use an awning system for avoid overheating of summer sun.
VENTILATION DESIGN FROM ENERGY VIEWPOINT
WINTER VENTILATION : The fresh air should be heated up in winter before taken into the dome. Solar hot air collectors are used as inlet and underground pipes are used for outlet in winter.
SUMMER VENTILATION: Underground pipes are used as inlet for fresh air and motor operated automatic top windows are used as outlet to discharge hot air. Underground pipes cool down the temperature of fresh air before come into the dome.
No need opening windows at the bottom.
Modular Prefabricated Kits
for Easy Construction
JUST PUT THE MODUL IN ITS PLACE AND SCREW ON. THATS IT ...!
Thanks to our patented special sealing system for easy construction.
No need high skilled carpenter to fix the covering wooden plates and struts. All works are done at our workshop.
You will just install the moduls like an IKEA furniture in two weeks.
Size of triangular moduls is easy to handle with 1m average edge length.
We will also give engineering support at the site during the construction.
DOME HOME PRICES